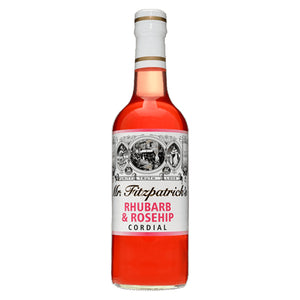 500ml Bottle Fitzpatrick's Herbal Health Botanical Health Drink - Rhubarb & Rosehip
The poshest tipple - refreshing blend of English Rhubarb blended with a Rosehip infusion. Does it get more English than this....?
Rhubarb is known as an excellent source of Vitamin C which helps support a healthy immune system. It is high in dietary fibre which helps to maintain regularity within the digestive system and is a good source of calcium. Mr Fitzpatrick's old fashioned drink - Rhubarb & Rosehip Cordial
In 19th Century North England, bars selling non alcoholic beverages were common. These bars quite often asked their patrons to sign a pledge of Temperance, meaning that they would abstain from intoxicating liquors!
Just add still or sparkling water to this cordial (or drink hot!) to relive the taste of yesteryear of this old fashioned drink!
Contains health boosting ingredients (see below for more info!)