Welcome to THE OLDEST SWEET SHOP IN THE WORLD!
The Original Old Sweet Shop
(Official Guinness World Record!)
The famous Oldest Sweet Shop in the World has been trading continuously since 1827! We are an official World Guinness record holder (Guinness book of records 2014 - The Oldest Sweet Shop in The World) and have appeared on national TV and in the world wide media. It is one of the few authentic traditional old sweet shops still selling retro sweets of a bygone age. 
As seen with Paul Hollywood BBC 1, Robbie Coltrane ITV, Nigel Slater BBC, Alan Titchmarsh ITV, BBC Breakfast News Team
As seen in Guinness World Records 2014, National Geographic, Daily Express, Daily mail, Guardian, Independent Telegraph, Good Food Magazine, BBC Olive Magazine and even more! See Here
The Oldest Sweet Shop online has been delivering old fashioned sweets, retro sweet jars & luxury chocolates for over a century and now online for over a decade. We pride ourselves on the quality of our confectionery which is still made to the original recipes dating to the 19th century (boiled in copper pans, the way sweets should be made) we have an unsurpassed knowledge of sweets and chocolates, gained from nearly two centuries of trading experience. Our packaging and presentation is second to none. Importantly we still retain the traditional business values of yesteryear which are today often lost.
We only source the finest products whether that is a black jacks, a pear drop (guaranteed to taste like a proper pear drop!) or the finest box of chocolates -we do not compromise on quality!
Most of all we love sweets and want to share our passion with everybody - enjoy!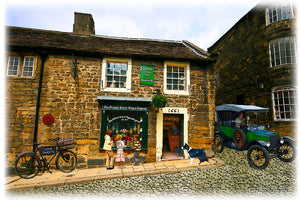 tHE oLDEST sWEET shOP In tHE NEWS & pRESS
As seen on 'Robbie Coltrane's B Road Britain' & 'The Alan Titchmarsh Show'

ITV 1
As seen on 'BBC1 Breakfast News' 

BBC
Food Journeys of a Lifetime: 500 Extraordinary Places to Eat Around the Globe - features The Oldest sweet shop In England in it's top 10

National Geographic
"Satisfy your sweet tooth"

The Guardian
As seen on 'Market Kitchen'

Good Food Channel