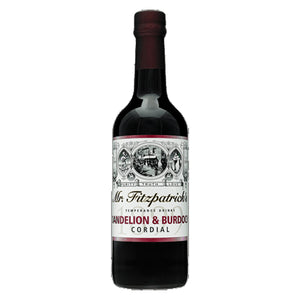 500ml Bottle Fitzpatrick's Herbal Health Botanical Health Drink - Dandelion & Burdock

Drunk in the Britain since around 1265. A timeless classic with a mellow finish.

Such is this drink's ability to evoke poignant childhood memories we have dubbed this and our Sarsaparilla Cordial 'time travel in a bottle' Take a trip back in time with a glass of this nostalgic original classic cordial.

Burdock Root - Scientific Name - Arctium Lappa Origin -Native to Europe & Northern Asia and North America

Burdock Root: is believed to have been effective as a blood purifier, diuretic, laxative, ease joint pains and offer comfort for some skin problems. It contains Vitamins C B & Magnesium and is considered to support and maintain a healthy liver, kidneys and bladder.
Mr Fitzpatrick's old fashioned drink - Dandelion & Burdock Cordial - a very nostalgic flavour!
In 19th Century North England, bars selling non alcoholic beverages were common. These bars quite often asked their patrons to sign a pledge of Temperance, meaning that they would abstain from intoxicating liquors!
Just add still or sparkling water to this cordial (or drink hot!) to relive the taste of yesteryear of this old fashioned drink!
Contains health boosting ingredients including Burdock root & Vitamin C.