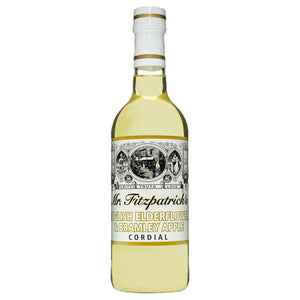 500ml Bottle Fitzpatrick's Herbal Health Botanical Health Drink - Elderflower & Bramley Apple

English Elderflower & Bramley Apple is the quintessentially English drink, reminiscent of lazy Sunday cricket matches, tea parties and village fetes. It's often said: summer has only really arrived when the elderflowers start appearing in the hedgerows.

A beautiful refreshing cordial which would grace any table. Ingredients sourced from English orchards and English elderflower fields.

Traditionally, infusions of elderflower were used to ward of colds, sore throats and hayfever, the leaves were used to treat minor sprains and bruises, the berries to treat rheumatism. Elderflowers are also believed to boost the immune system, soothe the respiratory tract and stimulate circulation to name but a few.

We just think it tastes delicious the rest is a bonus.
Mr Fitzpatrick's old fashioned drink - Elderflower & Bramley Apple Cordial
In 19th Century North England, bars selling non alcoholic beverages were common. These bars quite often asked their patrons to sign a pledge of Temperance, meaning that they would abstain from intoxicating liquors!
Just add still or sparkling water to this cordial (or drink hot!) to relive the taste of yesteryear of this old fashioned drink!