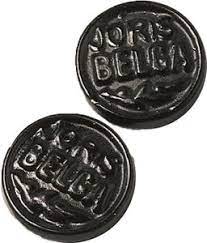 These Belgian Liquorice Coins have an lovely strong liquorice flavour, with a mild sweetness.
The best part is you cannot chew them for a while, until they have to been softened by sucking. This means that they last longer, usually about 10 mins....wonderful!!
They are also a NAUTURAL product. They are WHEAT,GLUTEN FREE.
Ingredients:- Liquorice, brown cough drops: natural flavours, no colours,natural acacia gum, sugar, corn syrup.colour, vegetable carbon black.
(Jar contains approximately 1450g)
This product is packed in a facility which handles Milk, Gluten, Soya, Sesame ,Nuts, Peanuts.